WPCanvo – A DIY graphic designer WordPress Theme
WPCanvo Theme – A DIY graphic designer WordPress Theme.This is one of it's kind wordpress theme. You will not find this kind of wordpress theme in the market. We have unleashed the full potential of wordpress. User's can design any type of graphics including website banner,Facebook  banners,Twitter banners, Logo design and infographics to name a few. User's can change the size of the images, shapes, Font size and colour, Rotate the shapes and delete it.
User's can download the designed graphics in different formats like JPEG,PNG(Transparent background and PDF.
The perfect real world examples of the success of this type of sites are: Desygner.com,canva.com,DesignBold.com and Getstencil.com many other sites.
Main features of the WPCanvo Theme
Standalone or Membership –
You have two options to choose the type of website you want to create.
If you want to setup the website as standalone, then you can collect money for each of the graphics that user's design and downloads
If you choose membership then you can setup as Monthly,Quarterly and yearly membership or the membership levels you wish to
Powerful Admin Dashboard –
WPCanvo comes with the powerful admin dashboard. Directly from Admin dashboard you can create the Design templates, Upload the shapes, Background images, Font's and much more design components.
Custom Sizes and Template –
Want to create Facebook cover picture or a Twitter banner? Choose a template and create the graphics in seconds or do you have custom size, then choose the size of the canvas and start designing your own.
Background Image,Shapes,Font's –
Add the Background Image,Shapes and Font's directly to the canvas. Start creating the designs in minutes
Watermark –
For DIY graphic design website the security of the images are very important and we know that 🙂
That's why we have added Watermark feature the watermark disappears when user pays for the design and downloads
Multiple Image formats –
After user completes the design they have option to download in 3 different format. The file type includes JPEG,PNG and PDF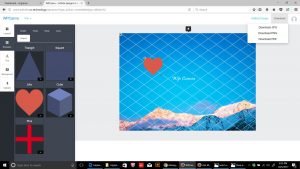 Explore More. Click on the Demo button to see WPCanvo in action….
Note: We recommended VPS hosting for WPCanvo theme or any hosting with Root access to run the website smoothly.